I knit this awhile ago but since I've had to take a break from crocheting to get ready to move back into the dorms at school, I figured I'd post something I already made.
I'm a diehard Firefly/Serenity fan and for anyone familiar with the tv series I'm sure you can guess what one of the first things I wanted to knit was....Jayne's hat! (for anyone who hasn't seen the tv series or movie I highly recommend it!)
It was almost all stockinette stitch and very easy to make. I actually made two, one for a friend and one for myself, and cranked each one out in about a day. It was also my first time working in the round which I liked a lot more than using double ended needles (they actually annoy me quite a bit...)
Stitch detail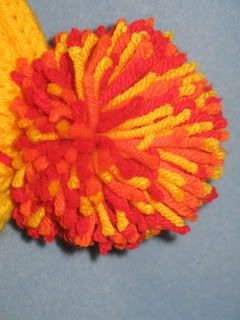 Pom pom detail
It was my first time making a pom pom (well technically this picture is of the second hat I made...) and I loved it! In fact I got a little carried away on my second pom pom, that thing is a beast compared to the first one! haha
Of course I had to try and give my best Jayne face when modeling it. I think it's kinda fail but whatever.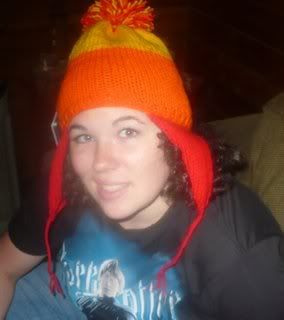 If it's any indication of how much my friend loves her hat, this picture has been her profile picture on facebook ever since she got it. Thanks for modeling Sarah!
Pattern can be found here:
http://www.craftster.org/forum/index.php?topic=19076.20
Wash (Alan Tudyk): "A man walks down the street in that hat, people know he's not afraid of anything."
-Erin