I AM FINALLY DONEEEEEEEEEEE
And by that I mean I have finished putting together Yoshi's body and reverse single crocheted around the whole thing in black yarn. Someday I may make squares to fill in the background and make it rectangle. This will probably never happen though considering I once calculated how many extra squares that would take and I remember it being at least as many as was needed for the body. Enough blather and on to pictures!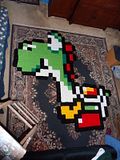 You will notice the ladder that I am standing on to be able to get high enough to even take a picture of the entire blanket, haha. It quite literally takes up my entire living room when laid out flat as you can see.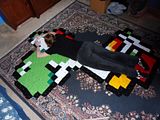 I am sprawled out on the blanket for size comparison. The blanket is roughly 8' tall x 7.5' wide (I am 6' tall). This is only about 2' taller than I had originally calculated/aimed for, haha. Oh well, I suck at gauging and have known this for quite some time now.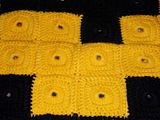 Couple more detail shots. He is 28 square high, 26 squares wide and should be 728 squares total. He's gone through one round of blocking and will probably go through another before I call it entirely good.
It was one of the very first projects I started and I know so much more now that I would use to change it for a little bit better (like using Magic Circle so there aren't holes in the middle of the squares), but I still love it to death.
And for anyone interested, here's a link to a pdf I made of the chart:
http://www.scribd.com/doc/45809950/8-Bit-Yoshi-Chart
If anybody uses the chart to make anything, crochet, cross-stitch, knit, whatever, let me know! I'd love to see links to any projects anyone makes!
-Erin