I realize I haven't posted on here in foreverrrrrrrrrr. First off, I apologize to anyone who cares enough to read this. Unfortunately, a lot of things in my life get put on the backburner when I'm at school. That being said, I haven't been entirely too busy to accomplish anything :)
First off, I thought I would remind everyone where I last stood on my Yoshi Blanket: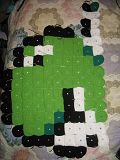 (Also, I've finally figured out how to make it so you can click it for the full size picture. Yay!)
And here is where I stand as of now: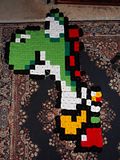 Quite beautiful if I do say so myself :) He stands a bit taller than me (which is saying something) and I'd estimate that I'm about 3/4 done with the body. There is a possibility I could get it done before a year's gone by! Then once I'm done with that, I've still got to make the background to fill it in and make a rectangle (assuming I don't give up that hope for laziness, haha).
Anyways, hopefully I'll be updating here a bit more often than once every 10 months. Oops.
Until then,
-Erin