I figured I'd jump right into things with pictures from my current crochet project. I'm crocheting an 8-bit Yoshi blanket, a great start to a blog with nerdy in the title if you ask me. Please excuse the distracting background but I didn't want to lay it out on the floor and didn't feel like stripping the quilt off my bed for the picture...
I'm making it from simple, double crochet granny squares with each square measuring roughly 3 to 3.5" depending on the type of yarn used. The body itself is 28 squares high by 26 squares wide which should put it a bit over 7' tall when done. I love huge blankets since I'm 6' tall myself and like having plenty of material to wrap myself up in so it should be perfect :). The Yoshi body itself should be 341 squares total if my math is correct so this is indeed a rather big project. I made the chart up from a picture I found online. If anyone wants, I can send you the chart and/or link to the original picture I used.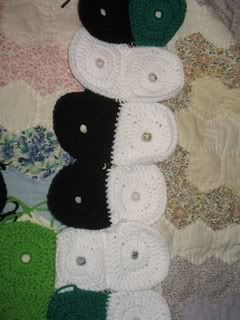 Close-up of the eye
I've finished his nose and mouth and have two rows of his eye done which make puts me about 1/3 done with the whole body. It will eventually have a blue background to fill in the spaces and make it a rectangle but that'll roughly double the amount of squares I have to make so I'm not entirely anxious to start on that yet haha. That and I haven't found the right color yarn yet.
I'm using Bernat Super Saver for all the colors but the light green. It's my favorite type of yarn I've used thus far and I can easily pick it up from my local grocery store. The light green is Red Heart Super Saver because I couldn't find the right color in anything else. I quite dislike Red Heart SS because I find it to be quite scratchy feeling but they had the color I needed and I didn't really want to spend forever searching for the color in another brand.
Complete granny square
Close-up of square stitched together on both vertical sides
As I mentioned earlier the Granny Squares are simple and all double crocheted. They don't really stay square by themselves but when stitched together they look much more square. I'm stitching them together vertically first and am waiting to stitch them together horizontally until all of the row is there first (you'll notice the very top of his nose and bottom of his mouth are stitched horizontally).
So that's where 1-2 weeks worth of effort has gotten me so far. I think it's been two weeks but I can't remember when I started, I really should have made note of the date somewhere… I'm in love with the project already and can't wait to get it done! I don't know how much time I'll have to work on it in the near future since I move onto campus this upcoming Thursday and classes start the following Wednesday but we'll see! Like I said earlier, if anyone wants the chart or original picture or even directions for the granny square just ask!
In the immortal words of that adorably strange dinosaur creature,
Yoshiiiiiiii!
-Erin