It's been awhile since I last posted (of course) and I have made a few things since then. Some of which I don't have pics yet, but some I have already posted on craftster and figured I should post here.
First are some earrings I made for my friends for the midnight showing of Deathly Hallows Part 1. My one friend went as Luna Lovegood and my other friend just wanted some thunderbolt earrings.
with flash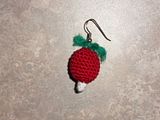 without flash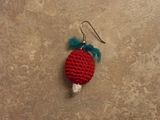 with flash
without flash
They're all crocheted out of embroidery floss with a teeny tiny hook. I have my notes somewhere and will probably type up a quick pattern and post it on here sometime. I also dressed up as Hedwig for the premiere and made my costume which I will be posting on here soon as I stop being lazy, haha.
I also have some pics of an R2D2 beanie I made for my roommate for what will be a late Christmas present.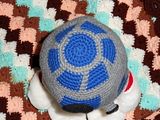 I tried to get a good picture that shows how the projector part actually sticks out :) Here's some pics of it on an actual person's head. Pardon me covering up my face. I've found that it's pretty much impossible to take a close up picture of your head from above without looking like a complete doof.
Again, it's all my own pattern which I will eventually type up and post. I'm still trying to get this hat thing down well considering I've made hats for myself that were too big and too small, but this should (hopefully) fit her head!
Comments always welcome! Now I'm going to get to finishing up Yoshi. I am actually decently close to being done. My goal is to finish him up over break. We'll see if that happens!
-Erin