I've had a forced mini crochet sabbatical due to an injury I sustained to my right wrist while working on my starghan. Yes, you read that right. My mind's internal chant of "one more row, one more row" managed to supercede my body's internal throb of "ow ow OW". Now that it is little over a week later, I think my wrist may finally be 100% free of pain. I'm not entirely sure I'll ever be free of shame over that incident but I certainly have learned a valuable lesson.
In celebration of my health, I figured I'd make a long overdue post about a project I completed about a year ago now: The Potter Puppet Pals Fingerpuppets! For anybody who doesn't know what the Potter Puppet Pals is, you are missing out! Go
here
and be sure to watch the first two that are flash videos (Bothering Snape and Trouble at Hogwarts) if not all of them.
I think this was actually my first crochet project aside from the practice scrap I made. It was rather ambitious of me, especially considering the small size made it especially difficult to construct. I made them for a friend and would love to make some to keep someday, but that day is still yet to come. Anyways, enough blather and onto pictures!
All of the adults. Don't mind that it looks like Dumbledore is trying to strangle Voldemort, haha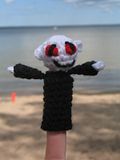 I think Voldemort turned out the best out of all of them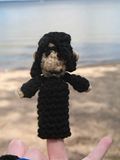 Snape's all right. His emo hair kind of gets in the way of his face which may or may not be a bad thing, haha.
Dumbledore is way wonky. Aside from the fact that I can't embroider, his moustache/beard managed to sit a lot lower than I had intended. Oh well...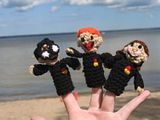 And the kids!
I'm really proud of Harry. He turned out the second best in my opinion, and that was with all the crazy assembly and his hair!
I like Ron a lot too, despite his tongue...
Like Dumbledore, Hermione is a bit...special...
So there they are in all their glory (and on vacation nonetheless! haha). Things I learned from this project: I need to learn how to embroider much better, and small things are a pain in the butt to make/assemble. I swear it took longer to assemble all the pieces than it did to make them. Also, for anyone that wants the patterns, all you have to do is search "Potter Puppet Pals" over at ravelry. There is a separate pattern for the adults and kids and they both are
free
. Many thanks to Melissa Mall at Inner Child Crochet for the time put into the pattern and the charity to share it!
Now, hopefully, I will be able to make some decent progress on my starghan without hurting myself...
-Erin